Transportation options in London are plentiful and well-connected. London has one of the largest transport networks in the world (Bus, River, Subway, etc.) spanning across its 32 boroughs (similar to United States' "county"). The governmental authority on London transportation is Transport for London (TFL).
In fact, the Official Visitor Guide to London exhaustively listed out all possible transportation options within London:
Buses
Tube (local term for "subway")

UPDATE (February 3, 2015): Selected subway lines in London will operate 24/7 on weekends starting September 12, 2015!)

Docklands Light Railway
River Bus Services
Local Trains
London Trams
Cycle Hire Scheme (Bicycle Rental)
Taxi
Emirates Air Line Cable Car
Walking (duh!)
The most commonly used fare card in London is called Oyster card. It is a tap-and-go card and pay as you go (similar to Boston's Charlie Card). This is the card I had used when I was living in London for nearly 2 months. This is the card London residents would use.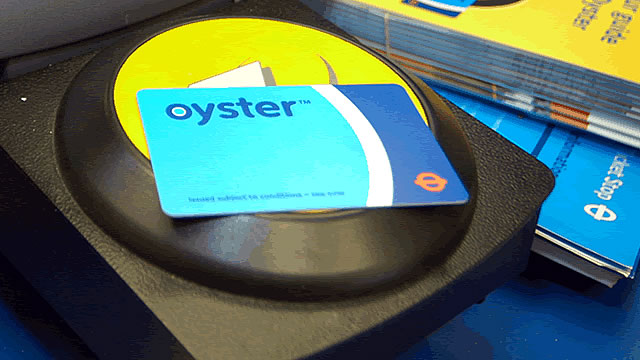 However, there is a "Visitor Oyster" card: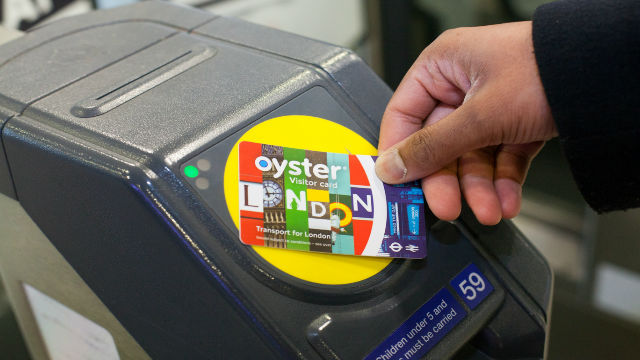 and "travelcards":
Visitlondon.com had comprehensively listed out all the possible reasons you could use either visitor Oyster card or a travelcard as well fare information.
However, with the regular blue Oyster card, I was able to register it online, top-up, and have it taken care of if it gets lost or stolen (which you can't with Visitor Oyster card). But there is a £5 deposit to obtain this oyster card in London. The deposit and remaining balance is refundable when you surrender the card. If you wish to hold on it in case you want to return to London one day, it never expires!
That's good as any deaf or hearing travelers can get when visiting London for more than a week or so, but not living in London for at least a year, unfortunately.
Planning on Living in London for at Least a Year? 
If you are:
Aged 60+  OR have a disability (deaf people included)
AND
London resident (You can be either be a British or non-British citizen as long you are establishing residence in London)
You will be able to obtain a Freedom Pass which entitles you FREE travel on the public transport! That is quite a huge savings per year, especially when you can travel to any zone as far as possible you want.
In the United Kingdom, discounted or free fares are called "concessions," so whenever you want to obtain discounted fares, make sure to use the word "concessions."
I also want to add that UK residents with disabilities can obtain "Disabled Persons Railcard", which takes 1/3 off of the fare price for national railroads (trains to other cities in Britain, not just in London only). The discount is also extended to a companion/carer/friend of the person with disabilities as long the person is traveling with the holder of the Disabled Persons Railcard. So if you have a friend who has the Disabled Persons Railcard, you two would be able to travel all over Britain at discounted price!
The cost of the railcard is £20 for a year or £54 for 3 years.
NOTE: You must use your Disabled Persons Railcard with a valid ticket or Oyster card with the Railcard discount concession to travel. If you also have a Disabled Person's Freedom Pass you cannot use the Disabled Persons Railcard to buy a discounted ticket for your companion, and then use your Freedom Pass to travel.
If you don't meet the conditions of age or disability, there are other options, such as veterans and apprentice discounted oyster card.
Navigating London
London is certainly a big city, so that comes with the challenge of navigating the city in a most time and cost-effective manner (those Oyster fares can add up if you're not careful!)
There is one navigation phone app superior to Google Map (Yes, really!) I had used frequently in London: Citymapper.
The navigation app is available in major cities around the world, such as New York, San Francisco, London, etc. It does give you directions, but it does so much more than that. They listed out the possible routes and their associated cost, which helped me to make financial decisions wisely many times.
It shows you how many calories you could burn if you walked or biked! The app offers the ability to save important locations for you to access quickly anytime, such as "home", "work", etc. Also, you can view offline maps whenever you're not connected to wifi or data (extremely useful for a short sojourn in London!).
Here are the sample screenshots of the app (available for both Android and iPhone). Note how the interface is beautiful, simple, and intuitive:
Accessible Transport in London videos in British Sign Language (BSL)
I am impressed that Transport for London (TFL) had created a series of videos in British Sign Language for London's signing Deaf community. The videos range from "Planning Accessible Transport in London" to "An Accessible River Journey."
Don't know BSL? Don't worry, the videos have English subtitles.
I will continuously update and grow this post as information changes. Please also comment below if I am missing or wrong about any information.
BE A SMARTER DEAF TRAVELER/EXPAT
Sign up to get updates on Sheila's trips and insider tips on becoming a savvy deaf traveler and expat